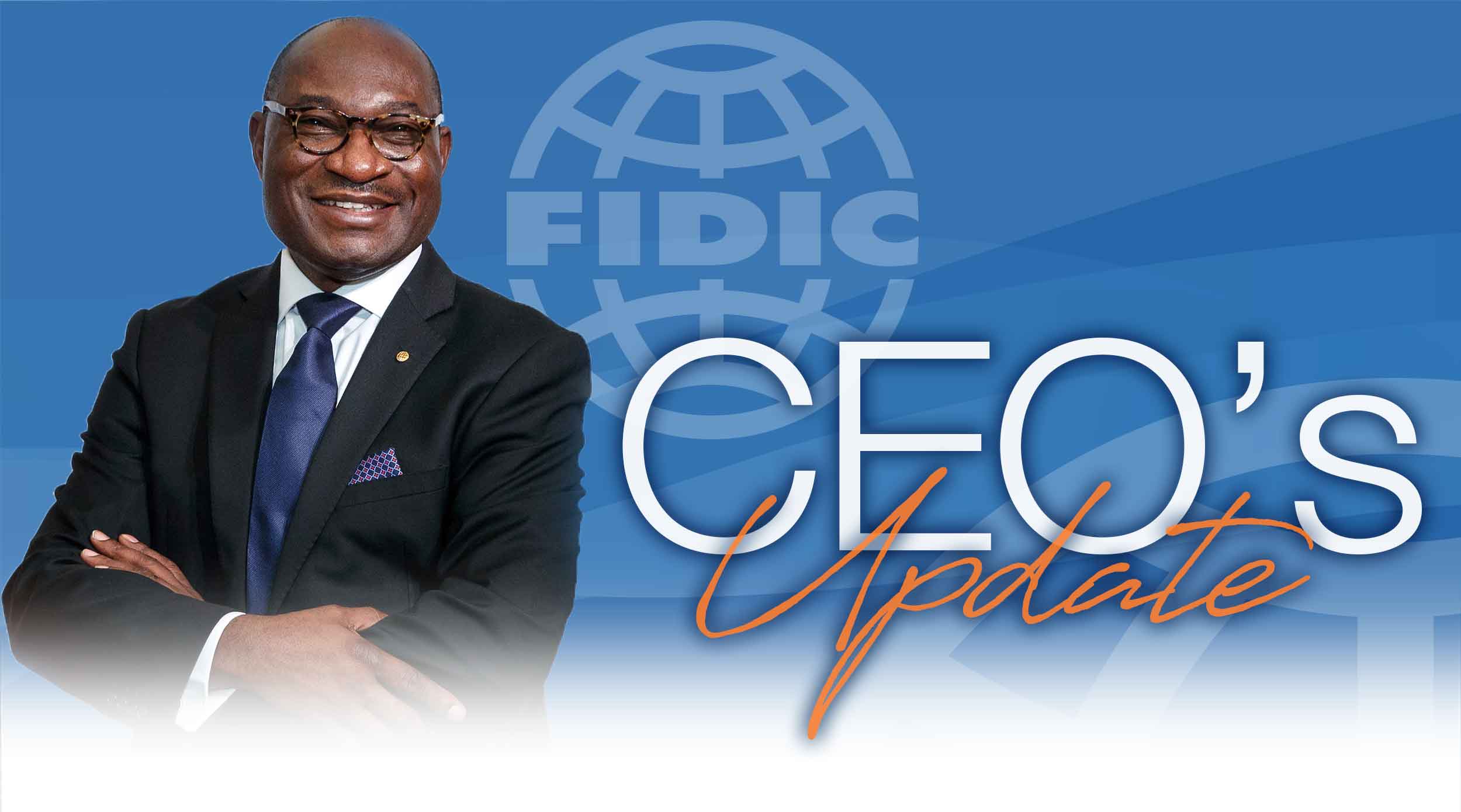 Issue 18: June 2021
Dear colleagues
Welcome to issue number 18 of the FIDIC CEO's Update, my regular round-up of the latest FIDIC activities, initiatives and events.
I wanted to begin this CEO's Update by expressing my thanks to the FIDIC board, FIDIC committee members, our staff team and all our member associations for all their hard work and support in delivering our activities on an ever-increasing number of fronts over recent months. Like everyone else in our industry, we have all been working through challenging times and I just wanted to put on record my sincere thanks for all the work that is done to keep the FIDIC ship sailing and our flag proudly flying high. The activities outlined below are not possible without the support of those mentioned above and indeed all our stakeholders and it is a testament to the high regard in which FIDIC is held and its growing reputation that we are able to achieve what we have done in these unprecedented times. Of course, we want to achieve even more for our members and stakeholders and our plans for the rest of the year are aimed at doing just that and I look forward to all your continued support in helping us achieve bigger and better things over the months to come.
Record-breaking contracts webinar

Click here to read a report on the FIDIC contracts – the gold standard for projects webinar
This week saw the latest event in our webinar series – and what an event it was! The webinar on Tuesday 8 June, FIDIC contracts – the gold standard for projects, saw more than 4,400 people register to attend it and on the day, we had 1,000 people attending on Zoom with more than 600 others watching live on You Tube. These numbers represent an all-time record for any FIDIC event and it just shows the massive interest that there is in FIDIC contracts and their use throughout the global infrastructure sector. It is certainly something to build on as we move ahead with our Contract Users Conferences (see below) and gives us even more contacts to work with as we look to widen our stakeholder base. The webinar saw literally hundreds of questions in the Q&A session which again shows the interest and appetite for discussion about these flagship FIDIC publications.
Click here to view details of FIDIC's ongoing webinar series
Official FIDIC Contract Users Conference delivered

The first Official FIDIC Contract Users' Conference to be staged online and delivered in-house under new arrangements was delivered online over four days on 25-28 May 2021. The event targeted the Latin America and North America contract users' community and saw attendees being updated on the application and use of the FIDIC suites of contracts in the region, with best practices highlighted and hints and tips on FIDIC contract use shared. The conference was attended by representatives from MDBs, private sector organisations and clients, government, consulting engineers, contractors, investors, lawyers, risk managers and other stakeholders with an interest in FIDIC contracts. Thanks are due to our excellent panel of speakers and to FIDIC's legal and contract, events and communications teams for their help in delivering the virtual conference programme. You can read reports on each day of the conference at the links below.
The next Official FIDIC Contract Users' Conference takes place on 12-13 July and the event will be aimed at the Asia/Australasia region. Click here to register a place.
Key move for FIDIC as China contract translations published

I was delighted to see FIDIC publishing five of its key standard construction contracts in Chinese this month. The publication of the documents is the result of the major translation and publishing licence agreement FIDIC signed last year with China Machine Press in Beijing which enables FIDIC contracts and other key documentation to be translated and published in Chinese. The publication of these contracts is a key strategic move for FIDIC and the international infrastructure sector, as it will undoubtedly help to widen the dissemination of FIDIC publications in the Chinese market. Also, due to increased Chinese investment in international markets and on the Belt and Road initiatives, the publication of these translations will also provide a unified approach allowing Chinese consultants and contractors to better comprehend FIDIC contracts in their local language enabling them to use them internationally.
Read more on this news on our website here
More major agreements signed with MDBs

FIDIC continues to make progress building our links with the international banking sector with the signing of two further collaboration agreements in the last month with high-profile global institutions. The European Investment Bank (EIB) and FIDIC have signed a five-year memorandum of understanding to foster cooperation on shared objectives and on effective procurement and contract management. The EIB is the largest multilateral financial institution in the world and the MoU we have signed is a big boost for FIDIC and its members, the EIB, international consulting and engineering firms and also the wider global construction sector. I am also delighted to report that we have signed a major agreement with the International Fund for Agricultural Development (IFAD) that will see the international funding organisation adopt the use of six FIDIC standard contracts for the next five years. Endorsement by a key UN agency like IFAD will provide additional comfort to financial, institutional and private equity investors operating in the global market to adopt the use of FIDIC standard procurement contracts. We have now signed cooperation agreements with nearly all the major MDBs, which represents a major step forward for FIDIC and its members.
Preparations ongoing for 2021 FIDIC GAM

Preparations are continuing for our 2021 general assembly meeting (GAM) which takes place virtually this year on Tuesday 14 September at 12 noon CET. The GAM is FIDIC's main decision-making body and forms a central part of our governance structure as it elects the members of the FIDIC board. This year we have a diverse range of five candidates (three women and two men) standing for election to the board from France, India, China Hong Kong, Tanzania, and Zambia. As part of FIDIC's drive to modernise its governance processes and increase participation and engagement in its processes and as agreed by members at the FIDIC 2020 GAM, in accordance with the FIDIC statutes and bylaws, this year's FIDIC board elections will be held online using an electronic voting platform.
All set for 10 and 13 September 2021 –  Don't miss FIDIC's International Infrastructure Conference

Work is well advanced on the organisation of FIDIC's annual International Infrastructure Conference which takes place online again this year on Friday 10 and Monday 13 September. The conference, Investing in future infrastructure – governance and leadership in a post-pandemic world, will look at the global need for high-quality and sustainable infrastructure in the context of a world coming out of the Covid crisis. The event will consider the challenges faced by both the public and private sectors in developing successful projects and maintaining high-performing infrastructure assets in a rapidly changing world of digitisation, energy transition, climate change, geo-politics and growing societal needs. The conference will hear from leading keynote speakers who will address the planning, funding and delivery of sustainable infrastructure as well as examining the leadership – business, industry and political – needed to make it happen. The full agenda for the event will be available shortly but you can register your interest to attend and at the link below.
Click here to register your interest in attending the 2021 FIDIC International Infrastructure Conference
Covid bulletin Issue 3 now published

Issue number 3 of FIDIC's Covid-19 Bulletin was published at the end of last month and the latest edition of this excellent publication covers the external business environment challenges and best practices facing consulting engineering firms. The bulletins are compiled by the FIDIC business practice committee (BPC) as part of our continuing effort to update FIDIC's member associations during the current global pandemic. Special thanks go to Andrew Read, chair of the BPC, the FIDIC secretariat, Chris Newcomb, head of the task group and other contributors from across FIDIC member countries for all their hard work in delivering this valuable publication. You can read the latest bulletin at the link below and also access a webinar organised by the business practice committee which focused on all the issues covered by the bulletins to date at the link listed.
Click here to view the FIDIC Covid-19 bulletin: Issue 3
Click here to access the webinar organised by the FIDIC business practice committee
FIDIC Awards 2021 – your chance to enter and win!

Entries are now open for FIDIC's four main global prestigious awards programmes for 2021. Applications from companies, organisations and individuals are invited for the FIDIC Project Awards, Member Association Excellence Awards, Future Leaders Awards and the FIDIC Contract Users' Awards and the winners will be announced at a number of online events later this year. I would strongly urge all our member associations to consider submitting an entry for the MA Excellence Awards as this is your chance to shine and demonstrate your excellent work on behalf of your members over the past 12 months. MAs' help in promoting the Project Awards, FIDIC Contracts Awards and Future Leaders Awards would be much appreciated and go a long way to ensuring that the 2021 awards are the best supported yet.
Click here for further information about the FIDIC Awards 2021 and to access the entry forms